Workshops previously conducted by or with Dennis Leri

Truly Advanced: the Feldenkrais Method®
Truly Advanced: You
with Dennis Leri and Carol Kress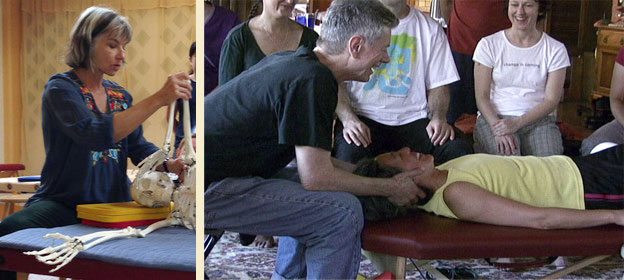 Trainers Dennis Leri and Carol Kress are offering an extended Advanced Training that will bring about deep and enduring positive changes in the way you understand and practice the Feldenkrais Method in general and Functional Integration® in particular. It is our contention that short Advanced Trainings, while often helpful, fail to really afford Practitioners the necessary sustained engagement that we will be presenting. Course content will constellate around recorded material from the Functional Integration lessons of Moshe Feldenkrais and the incomparable Gaby Yaron.
We will 'reverse engineer' the FI lessons in the videos: deconstructing the lesson as given in order to deduce the handling skills and the thinking required to pull it off. We will introduce, via ATM & FI, a basis for informatively watching a lesson. At the end of the day we will watch that lesson and ponder it overnight. The next day we will discuss the lesson and generate relevant ATM and FI material as a way to address any questions that may arise. Feldenkrais worked in a like manner with Mark Reese and Dennis Leri in Israel. That is, he would not answer any questions concerning a lesson immediately after giving it. Mark and Dennis were asked to think it over and ask their questions the next day. It may seem counterintuitive at first, but living with the lesson for a night, bearing it in mind, actually allows the many layers of the lesson to emerge.
If you want to hone or develop your FI skills, if you want sustained mentoring, and if you want to feel that conduit from Feldenkrais to you, then this is the Advanced Training for you.
Like you, we get a lot of notices about workshops that promise to simplify the work or make clear "what to do" in a lesson. For us, the "what" grows out of a profound and specialized engagement with who we are in relation to those we work with. We need to move from our default cultural and personal biases, to a more fluid, vital and, dare we say, joyous mode of being-in-the-work. We will base the month on the proverb, "Give a person a fish and you feed them for a day; teach a person to fish and you feed them for a lifetime." For the Work to work, it must work for you.
The workshop will be open to all Practitioners and Guild-Authorized Trainees℠ with at least 2 years of training.
Training location: San Rafael, CA
Tuition:
4 weeks = $2000
per week = $600
Sept. 23–Sept. 27, Sept. 30–Oct. 4
Jan. 27–Jan. 31, Feb. 3–Feb. 7
CONTACT:
Maria 415.485.3873
info@semiophysics.com
www.semiophysics.com


Five Days of Professional Feldenkrais® Training
with Dennis Leri and Carol Kress
Experience the SemioPhysics Feldenkrais® Professional Training during this 5-day introductory workshop. Designed as a make-up session for current and prospective students in the SemioPhysics Feldenkrais® training, it may also be taken by those - both practitioners and non-practitioners - who want an advanced introduction to Awareness Through Movement® and a basic introduction to the practice of Functional Integration.

November 5-9, 2012
Marin County


SemioPhysics also presented the following Workshops

Esalen Deconstructed, Awareness Reconstructed
We know that Awareness Through Movement® is unique. We have experienced results both personally and professionally. From the beginning scan, to the last instruction, WHAT a lesson is and can be, will be explored in this 5-day Intensive.

November 12-16, 2012
Marin County in Northern California

Learn
HOW a lesson operates
WHEN and HOW to modify a lesson
WHY we give the lessons we give
WHO gives a lesson and WHO receives a lesson

Moshe Feldenkrais emerged onto the American human potential scene with his extended workshop at Esalen Institute in Big Sur, CA in 1972. Presented to a select group of therapists, somatic practitioners and founders of the human potential movement, the workshop marked their first encounter with Feldenkrais's work. Feldenkrais carefully selected the lessons he wanted to give. Interestingly, there was pushback from the group, who thought they knew better than he what he should teach. Feldenkrais modified his plan. To examine how he altered his choice of lessons reveals much about both the essence of Awareness Through Movement® lessons and the nature of our work.
We will look at the structure of the first few lessons to better understand Awareness Through Movement® in general through the arrangement of the particulars. Why are the lessons the length they are? How are the instructions layered and connected? How do we decide what is and what is not central to a lesson and therefore know what can be changed and what cannot? How can we embed an intentional use within a lesson? What is a function, and do lessons highlight only one function or many? What is the relation of a lesson's structure to both its superstructure and its infrastructure? If we want to make up our own lessons, how do we go about it?
Further, how can we extract something from a lesson that we can use in our Functional Integration® practices? Feldenkrais put a lot of thought into organizing and creating each lesson. In this workshop we will learn how to use Awareness Through Movement® lessons to organize our own thoughts and actions, personally and professionally.

November 12-16, 2012
Marin County

View or Download a PDF of Dennis Leri's notes from an early training.


Additional Workshops Previously conducted by Dennis Leri
Fun with Time, Space & Cognition
In our work we have learned that there are profound rewards to be had for engaging our habits and working with them: a better understanding of ourselves, a richer and deeper comprehension of the world around us and a way to make our own way. Habits can work for us or against us. The rule, depth and reach of habits stretch from the mundane to the truly cosmic. America's greatest philosopher, C. S. Peirce, has stated that the so-called Laws of Nature should be called Habits of Nature. He argued that even the laws of nature are subservient to evolution and are not immutable. Modern physics is beginning to agree. These workshops will use Awareness Through Movement® to explore Time, Space & Cognition. The lessons will be presented as kinds of enacted thought experiments allowing us to explore the markers of space and time through a playful engagement with our thoughts, feelings, sensations and actions. Experienced within an embodied framework of actual and imagined action the markers will make self-evident, accessible and changeable the full play of habits that underlie our Being and Becoming.

Reversibility: Coming to (an Under-)Standing
Reversibility -- to know what one is doing and to be able to continue or change one's course of action -- is central to realizing Feldenkrais' practical idea of awareness. In this workshop we will take a simple action, coming from lying to standing, and explore it in various ways so that everyone will get a concrete experience of reversibility. Acquiring a felt sense of reversibility has a positive long-term effect on all areas of our lives.
Instructor: Dennis Leri


Marking and Unmarking Time: Being Time
When is the Past, past? When does the Future become the Present? Time involves making certain markers: Past, Present, Future. Our embodied sense of time, like any other sense, can be refined and deepened to allow us to experience a vastly expanded sense of the Present. One can, in effect, become Time for a time being. By using Awareness Through Movement® lessons to unlearn our habitual markers and measures of time we can alleviate the oppressive feeling that "there is never enough time."
Instructor: Dennis Leri


Making Space
There are habits – language, tastes, styles of dressing, sleeping positions, etc. and then there are habits– the Laws of Nature, Time, Space and Cognition. For example, it is said that Time flows and that there is a directional arrow to that flow: Past->Present->Future. But what if we treated Time as a habit or even considered that there is no such thing as Time? There are ways to imagine Timeless experience that involve Space moving. It is possible in Awareness Through Movement® to use our attention and intention to perform thought and movement experiments to loosen up our habitual relation to Time. What would that be like? We will find out through using accessible Awareness Through Movement® lessons in an unusual way.
Instructor: Dennis Leri


Introduction to the Feldenkrais Method® with Dennis Leri
In this one-day workshop participants will be introduced to the mode and style of learning called Awareness Through Movement®. There is really nothing like it in terms of its pedagogy and variety. Persons with movement difficulties as well as world-class athletes and performers have all benefitted from participation in Awareness Through Movement® classes and workshops. Come to this one-day introduction and learn unique ways to improve movement, refine sensation, clarify thinking and integrate emotional range.

Instructor: Dennis Leri



Additional Workshops previously conducted with Dennis Leri
Organized by Feldenkrais® Resources Training Institute*

Sequences with Consequences
How to Get the Most Out of Awareness Through Movement® Lessons

The Life in a Day of Emergent Awareness
The part is greater than the whole - Sufi Saying

A Mid-Summer's Dream Intensive
Awareness Through Movement® 5 - Day Intensive
with Dennis Leri & Carol Kress